Is there such a thing as "Zinfandel Grand Crus" in California?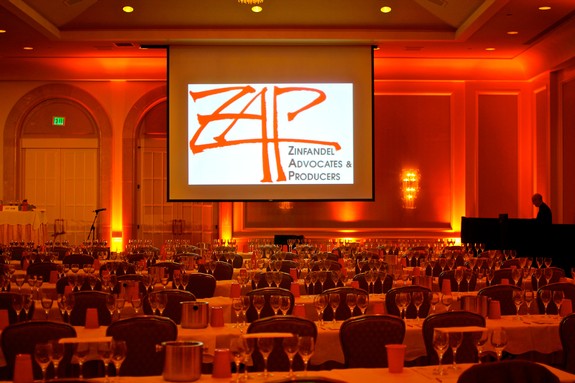 Is there such a thing as
"Grand Crus"
rankings of California wines? No, there isn't, and for good reason: the California wine industry is continuously discovering "new" vineyards of undeniably wonderful quality and interest. We're not like places in France, where they carry children around in baskets and
vignerons
have had hundreds of years to figure out where the best wines are coming from.
You read that right — "Wine Spectator Press." Why does that bring the Special Olympics of Publishing to mind? In California's Great Cabernets, Laube, in his adolescence as a wine critic, took it upon himself to classify California Cabernet producers into Five Growths — think Bordeaux's 1855 classification... The book is a study in hubris, as well as cheap paper.
The point is that as soon as you make a list of the top 50 or 60 vineyards where the best
Cabernet Sauvignons
are coming from, another 50 or 60 vineyards pop up that seem to be just as good or better. It's more like the book,
Millions of Cats
– an exercise not so much in hubris as futility. The California wine industry is growing too darned fast to make even tentative choices.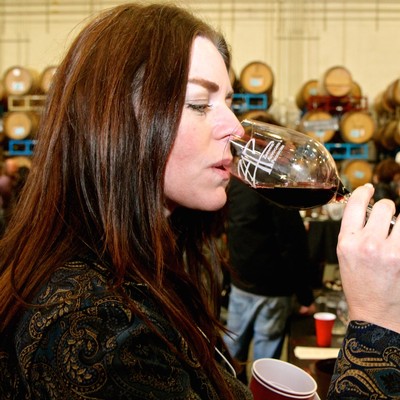 And so why, you may ask, is
Zinfandel Advocates & Producers
(a.k.a. ZAP) putting on a
Zinfandel
tasting of bottlings that, in their words, "sets the stage to push the conversation about California's own Great Growths" representing what might be considered the top of the top of our old vine Zinfandel plantings? This tasting takes place on February 26, 2016 in San Francisco, as part of the
"Flights! Forum of Flavors"
segment of ZAP's yearly, three-day-long
Zinfandel Experience
.
On their Web site, ZAP goes on to say:
The Bordeaux Wine Official Classification of 1855 ranked France's best wines according to a château's reputation and trading price and is still in use today. Ultimately 61 out of 5000 wine estates were given the highest ranking and are sometimes referred to as Great Growths or
Grand Crus Classés
... Is there a congruence between old vine vineyards and European great growths?
The simplest answer to ZAP's question, even before this tasting takes place, is: No. It is an exercise in futility, although we shan't say hubris (we love ZAP, and all great Zinfandels). Oh, it may be an amusing activity, but there are reasons why it can't be much more than that:
First: old vine vineyards are not necessarily the "grandest" sources of Zinfandel. Two of the highest rated Zinfandels in recent blind tasting competitions, for instance, have come from vines less than 10 years old (namely, Sam J. Sebastiani's
La Chertosa
from Shake Ridge Ranch in
Amador County
, and the
Mikami Vineyards
Zinfandel from Lodi). Sure, no one goes around breathlessy proclaiming "Young Vine" Zinfandel; but doggone it, Zinfandel from young vines can be good, especially from fantastic sites cultivated by top-notch growers and finished by crafty winemakers.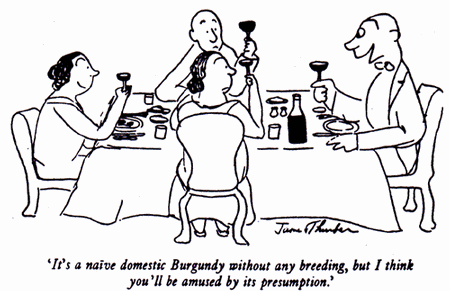 One of James Thurber's most famous cartoons (The Thurber Carnival, 1945)
Secondly: neither critics nor consumers can ever agree on a criteria as to what constitutes the "best Zinfandels." The ZAP organizers, for instance, plan to present Zinfandels from seven vineyards to start their conversation about a possible "Grand Crus." Five of those vineyards are located in
Sonoma County
and two of them from
Napa Valley
; and they all produce the deeply colored, densely textured, opulently fruited style of Zinfandel that many Zinfandel aficionados have come to love.
Ah, but what of the far less opulent, lower alcohol, decidedly more acid-driven styles of Zinfandels grown in, say,
Mendocino Ridge
? Or the more moderately structured yet suave, brightly balanced styles of Zinfandel coming out
Sierra Foothills
regions like Amador County,
El Dorado
and
Calaveras
? In both
Paso Robles
and
Contra Costa County
they grow full alcohol Zinfandels that often combine opulence of ripe fruit with almost improbable acid balance. Here in
Lodi
, we have recently come to appreciate a more delicate, perfumed, feminine (if you will) and often earthier style of Zinfandel.
Hey, don't ask us. It has been critics like Alder Yarrow, who in his widely followed
Vinography
blog last year (re
The Lodi Zinfandel Revolution Continues
) said that wines like the
Lodi Native
project Zinfandels "not only significantly redeemed my dissatisfaction with Lodi Zinfandel, it also inspired my faith in the future of California wine," while talking about the "incredible diversity and complexity" of Zinfandels from Lodi's better growths. They like us, they really do - sometimes more than others.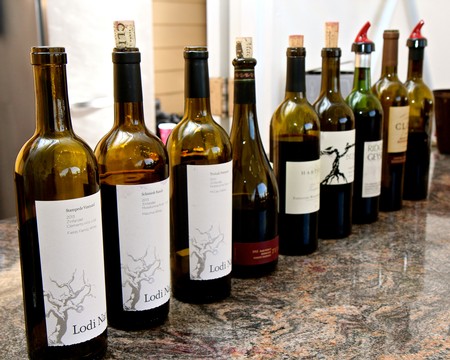 Point being: not everyone believes that the best Zinfandels are made in the big, black, thick and jammy fruited styles typical of much of Sonoma County and Napa Valley. Some critics actually hate that; preferring kinder, gentler, or more restrained, less obviously fruity styles. So by what standards do we devise a Bordeaux style classification of Zinfandels, sub-dividing "Grand Crus" growths into, say, five levels of "grandness?"
We don't. Not so long as there is disagreement about such fundamental issues as: Is bigger better? Are the best Zinfandels the ones with lean and edgy acid balance, or the ones that bounce like a Sally Rand balloon? Do we give extra credit for earthy, non-fruit complexities, or do we measure by sheer amount of classic "jammy" fruitiness. Do we like Zinfandels so rich and dense with tannin they can absorb tons of pungent, sweet oak, or Zinfandels so delicate that the barest whiffs of wood will bruise it? Are not floral or more subtle berry fragrances better?
Then again, that's the great thing about ZAP's yearly
Zinfandel Experience
. There's no better place to be for a Zinfandel lover, which is why Lodi's finest will be there. if you have the stamina or wherewithal to sip and spit rather than swill everything in sight, you can experience well over 100 different Zinfandels in myriad styles from California's fantastic multiplicity of regions – and then decide for yourself what is best, maybe even "Grand."
Without any pesky list-makers telling you what's what!